About Us
 Virginia Gold™ is a brand pioneered on the premise that coffee can be manufactured primarily out of commodities farmed in the United States. Most American coffee companies boast their products as being sourced from outside the United States. Some may perceive this as being unique or exotic. At Virginia Gold™, we understand the importance of American grown and American made products which is why we boast the origin of our products and commodities as being sourced from the United States. Our products are a clear reflection of our close attention to detail and our ambition to embrace the commodities which are farmed right here in the United States.
What Is Peanut Coffee?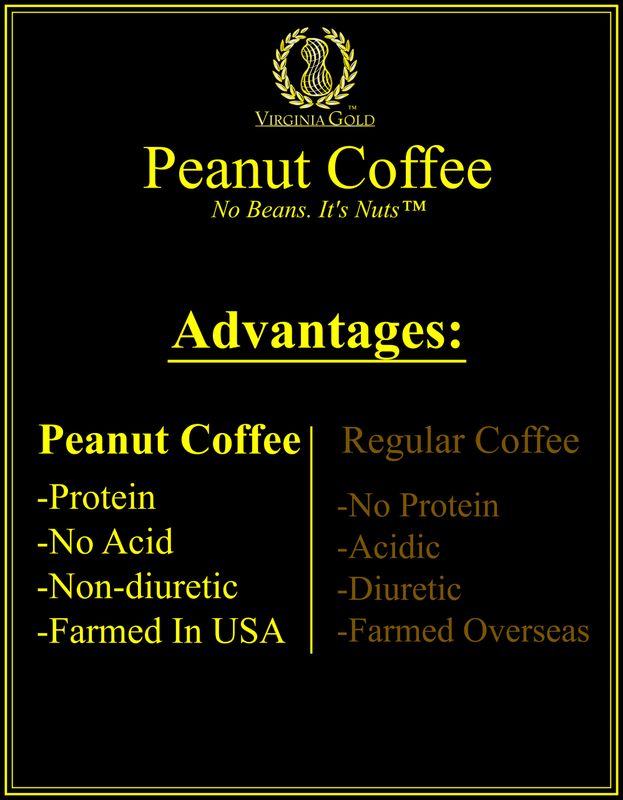 Peanut coffee is a new, proprietary product pioneered by Virginia Gold LLC Peanut coffee is not a peanut flavored coffee. Instead, peanut coffee is best recognized as a beverage primarily composed of peanuts.

No Beans. It's Nuts.™

More than simply super roasted peanuts, the process of manufacture to produce peanut coffee includes several processes pioneered by the patent recipient. Likewise, many ideas have contributed to the complete development of peanut coffee by the patent recipient. These processes/ideas are to be respectfully treated as intellectual property and are protected by U.S. patent law implemented by the United States Patent and Trademark Office. Furthermore, these processes/ideas are protected by the interest of hired patent attorneys, branding companies and invention companies. Any breach of intellectual property and/or replication of peanut coffee for the purpose of personal use, financial gain or research is highly discouraged as such actions will be punishable by the fullest extent of the law unless exclusive permission from the patent recipient is given. Ignorance of patent law will not be recognized as a viable excuse for patent infringement.